Where's My Perry? Guideline and Tips
Where's My Perry? Guideline and Tips
Joining alongside such other media tie-ins of popular iOS games such as Angry Birds Rio, Puss n Boots Fruit Ninja, and Temple Run: Brave, Where's My Perry? puts a fresh coat of Phineas and Ferb paint onto the popular Disney Mobile title, Where's My Water? Just like in Where's My Water, gameplay consists primarily of using your finger to break away the dirt that fills the level, creating pathways to guide the water to an opening, allowing Agent P to continue on his way. A secondary objective in each level is to guide the water to also collect the three stars, or in this game, lawn gnomes.
Publisher: Disney
Date: 26th of June, 2012
Where's My Perry is more than a re-branded version of Where's My Water. Where's My Perry, the new physics-based puzzle app. Even if you wont admit your secret love for Phineas and Ferb, you will surely disclose your soft spot for the extraordinary platypus Agent P! How can you not fall for the lovable Agent P? He is saving the world in style as he rocks his fedora better than any other semi-aquatic creature.
This is the guideline to Where's My Perry? which is the developer to the original Where's My Water? Game.
PLAY WHERE'S MY WATER?
You may play Where's My Water? by clicking
HERE
.
PLAY AGENT PERRY GAME!
PLAY OTHER PHYSICS GAME!
"Where's My Perry?" is really one of the most excellent Physics Game! You may want to play our other Physics Games from
HERE
! Cut The Rope, Where's My Water, Feed The Panda, Angry Penguins, Angry Birds, Gravity Duck, Fragger, Balloons Mail and so on...
So, Where's Our Perry?
Your task in Where's My Perry is to help Agent P escape from his transportation tubes so he can tackle his next secret mission. Use the lasers planted throughout your path to create different forms of water including liquid, ice, and steam, to power the tubes and help Agent P be the best spy he can be! Don't forget to collect all three gnomes in each level to unlock other Where's My Perry levels.

Games2Live'
s guide and tips presents you guideline, images, tips, and hints on how to enjoy your game.
The Game Videos...
Let's see the official teaser trailer first;
Than let's see the walkthrough;
Pre Game...
To get started, go ahead and click the "Play!" option near the top of the screen. Upon doing so, you'll arrive at a menu that features three options: Begin the game, download Where's My Water?, or gift the game to a friend. If you choose the play option, you'll immediately arrive at the first level of the game.
More Disney - If you're interested in seeing what else Disney Mobile has released, you can choose the "More Disney" button on the main menu.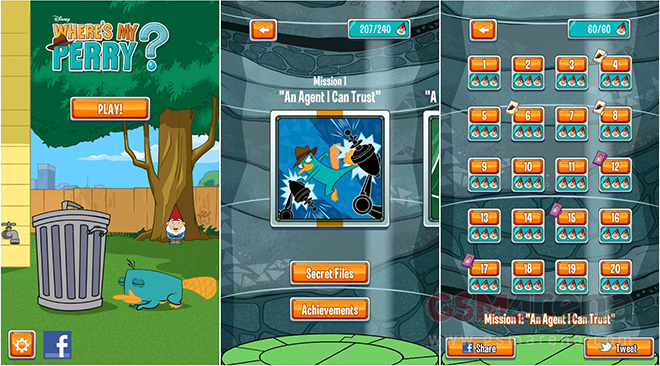 In the settings menu there is a gear icon on the bottom left of the screen for adjusting audio and subtitle, change the language, view the game's credits, edit your profile, or restore purchases.
Facebook - By clicking the Facebook icon at the bottom of the screen, you'll be taken to the official page for Where's My Water?
Achievements - To view the game's achievements, go to the level selection area and choose the bottom button labeled "Achievements"
In Game...
Now that we've taken a look at the game's menus, let's dive into the gameplay.
From Here to There: The ultimate goal of the game is to lead water from one area of the level to another. Doing so requires you to drag your finger across the screen to create a path through the dirt.
Gnomes - Every level contains three gnomes. Picking all of them up isn't crucial to winning, but later levels require a certain amount before they'll unlock. Although most of them can be attained by hitting them with water, certain ones require contact with steam (more on that later).
Secret Files - Certain levels contain hidden files for you to uncover. If you gather three in a mission (each mission is 20 levels), you'll be provided a hidden level. You can view how many you have by tapping the "Secret Files" button at the bottom of the level selection screen.
Crazy-inators - After completing a few levels, you'll be introduced to "Crazy-inators." These contraptions have the ability to convert water into steam and ice, and vice versa. This is important, because they're frequently necessary to beat levels in the game. If you're unsure how to get the water where it needs to be, try searching the level for a Crazy-inator. Just watch out for the ones that turn your water into useless confetti.
Sludge - Some levels contain a viscous, purple substance that will cause you to fail the level if it makes contact with where your water is supposed to end up. That said, it can also be used to cover gaps and help lead your water to its goal.
Lava - In some of the later levels, you'll encounter lava. Like sludge, it will end the level if it reaches the final destination of your water. On the more useful side of things, it can also turn water into steam.
Progression – Gnomes are a critical part of moving forward in the game. The second set of levels costs 40 gnomes to access; the third costs 85; the fourth costs 135.
More On the Way - As revealed in the level selection menu, the game will be updated with free content in the future.
Hidden Areas...
As stated earlier, uncovering secret files can lead to hidden levels. In these levels, you'll be in control of the Phineas and Ferb character Balloony.
Short of the digging mechanic, these levels are largely different from the game's main offering. Ballooney is ascending, and you must dig away the dirt that's in his way.
Obstacles - Obstacles like briar will occasionally show up, contact with which will result in having to restart the level.
Once you go far enough up, you'll approach a large tube that sucks up Balloony. That's the end of the level!
Tips
Try to be be careful for Crazy-inators. Don't accidentally lead all of your water to the confetti one.
Use the Restarting the level is as easy as to take advantage.
Try to Start digging when yo see a question mark near the top left of the screen during the level, it means there's a Secret File hidden somewhere.
If the gnomes come in contact with black sludge or lava, they'll immediately disappear.
If you don't have enough gnomes to make it to the next mission, return to the first mission and pick up some of the easier gnomes.
If a secret file is in a level, try digging away all of the dirt to find it, and then restart the level with the knowledge of where it's at.
If you're being subjected to a cutscene you've already viewed, a double tap on the screen will skip it.
Some levels start with water immediately flowing like crazy. To give yourself some extra time to think, dig a pit for the water to rest in.
News comments
<! Report popup & overlay !>






hasif233

(12) - 2012-12-24, 09:13

cool




kaylasha

(18) - 2012-11-18, 17:28

LOL




beladebloeme

(12) - 2012-09-21, 04:40

hey?






Your Favourites
Log-in to save favourites